CCGT Project Overview
Consolidating Romgaz position on the energy supply markets is also one of the company's priorities as set out in its 2021 - 2030 Development Strategy.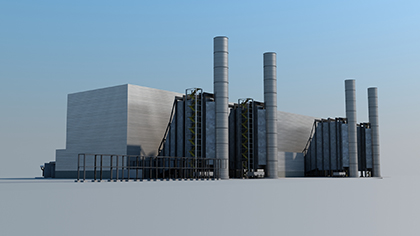 In the field of electric power generation, Romgaz is attempting to streamline this activity by implementing investments aiming to increase the efficiency of Iernut thermoelectric power plant (Iernut CTE) up to at least 55% while complying with the environmental requirements ( NOx, CO2 emissions), and enhancing safety in operation.
Based on an analysis of the current state and performances of Iernut CTE, the following key aspects were highlighted:
• combined cycle power plants are estimated to be over 20 percentage points more efficient than the traditional power plants.
• increased energy efficiency and flexibility in operation as well as less pollutant emissions (NOx, CO, CO2 etc.).
• the necessity to minimize the costs of electric power generation, correlated with the necessity to reduce hydrocarbon consumption to generate electricity, while increasing the efficiency of this activity, requires the adoption of improved technologies with minimum specific consumptions.
The analysis of modernizing/development possibilities of Iernut CTE was necessary and desirable with the aim of improving the technical – economical parameters of the power plant, increasing its life span and ensuring compliance with the provisions of Directive 2010/75/EU of the European Parliament on industrial emissions.
A Tender Specification was drawn up concerning Iernut CTE development by building a new combined cycle gas turbine power plant (CCGT) with a 380 - 430 MW installed power and gross electrical efficiency at nominal load of more than 55% pursuant to the requirements of BAT-BREF documents.
In this respect, Romgaz conducted an open tender procedure and concluded, with the successful bidder, the DuroFelguera – Romelectro Consortium, a works contract having as object the modernization /development of Iernut CTE, namely design, supply of equipment, performance of necessary works and commissioning.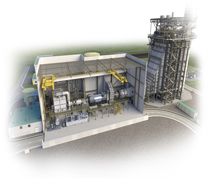 The adopted version of the new thermoelectric power plant consists of a gas-steam combined cycle with an installed power of 430 MW and a gross electrical efficiency at nominal load of 56% comprising:
• 4 gas turbines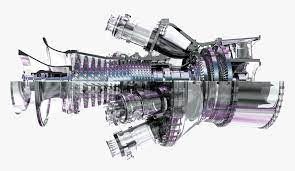 • 4 heat recovery steam generators (HRSG)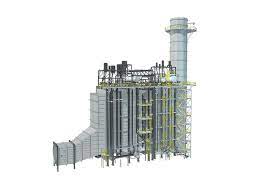 All 4 HRSG will operate in parallel and will supply steam to any of the two steam turbines.
• 2 steam turbines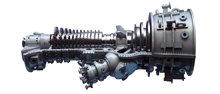 The selected technical solution has the advantage of flexibility in operation and a greater efficiency of electric power generation.
The power plant will be dispatchable and will ensure Ancillary Services (AS): primary control reserve, secondary control reserve and fast tertiary control reserve, slow tertiary control reserve, voltage and reactive power control in connection points and National Energy System defence and restoration services in accordance with the qualification requirements of Transelectrica – DEN
In order to perform the National Energy System restoration services (Black Start) Diesel units will be mounted ensuring a black start in the event of a total lack of voltage in the electricity transmission system.
The new Plant will be an important element of the integrated value chain of natural gas. The increase in efficiency of electric power generation will determine a decrease in the natural gas specific consumption, and, implicitly, of emissions. In addition, electric power generation costs will decrease, while safety in operation will increase. An increased flexibility of the power plant will consolidate the company's presence on the targeted centralized market.
The positive impact of the new investment in Iernut on the quality of electricity and safety of the National Energy System (NES) is also important by:
Maintaining NES voltage frequency within permitted limits by participating in Frequency-Power primary and secondary control reserve;

Increasing and improving the voltage stability conditions of NES by ensuring an important reactive power reserve and automatic voltage control reserve;

Increasing the level of NES adequacy¹, due to operation on a fuel alternative compared with other electricity producers by securing supply of energy during periods when there is a shortage in this regard in other types of power plants (reduced hydroelectric power during periods of drought, reduced photovoltaic power during periods of high cloudiness, reduced Aeolian power during periods of low wind speeds, reduced nuclear power during planned maintenance);

Compensation of high variability of electric power generation from renewable sources by the technical capabilities of the combined cycle to offtake NES imbalances due to a faster response time to changes in load.
¹ adequacy - capacity of the electro-energetic system to satisfy on a permanent basis the power and energy requirements of the consumers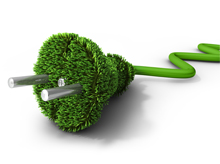 Environment and Nature Conservation
Romania is transitioning to a low-carbon economy by producing cleaner and more efficient electricity from gas, that being the pathway to reduce the country's greenhouse emissions, while securing supply of electric power in terms of safety and accessibility.
Air Quality    
Modern combined cycle power plants represent the cleaner and more efficient existent technology to generate electricity from fossil fuels. Such a power plant produces less than half of CO2 emissions as compared to a coal plant of similar size. Unlike fossil fuel power plants (such as coal and fuel oil) the sulphides in natural gas are insignificant, and the dust emissions of the combined cycle power plant will be minimal.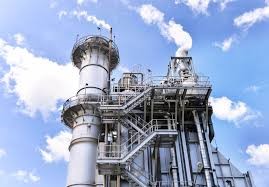 Operation of the new power plant will be made in accordance with BAT requirements regarding the NOx and CO emissions:
• the new investment will reduce NOx emissions.
• CO2 specific emission will decrease significantly.
Quality of Discharged Water
The reduction in discharged cooling water volumes will be significant;
The Mures River water temperature difference between downstream the cooling water discharge point and upstream the intake point shall not exceed 6°C.
Visual Impact and Level of Noise
Modern combined cycle power plants have a much lower overall size, require less space and have a much lower visual impact as compared to traditional fossil fuel plants;
Because the landscape and visual impact are often a major concern for the local communities and stakeholders, the design of the proposed combined cycle power plant will have a reduced visual impact on the surroundings;
During operation, the equipment will generate a level of noise below 65dB(A) within the industrial site.
Biodiversity

Protected areas of vegetation and fauna lie in the vicinity of CTE Iernut:
Iernut-Cipău ponds;
Lechinta Gullet and Mures River, upstream and downstream the Power Plant;
Thus, to protect the aquatic environment of the Mures River:
The ichtyofauna will be monitored before and after completion of works;
A modern fish ladder will be built, operational within the water inlet dam, for all fish species, in order to maintain the longitudinal connectivity of the Mures River
Social Impact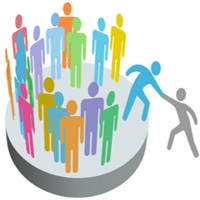 Building a new combined cycle power plant represents a long term commitment for the Iernut area. It will ensure long term work places in the area and it represents a substantial investment for the local economy.