IC5 Workover Rig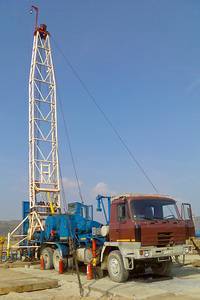 Description
The IC-5 rig can be described as a complex self-propelled lifting rig, which has a driving engine joint common with the truck it is mounted on. It requires minimum preparations at the well site providing thus a high productivity of the workover operations.

The main characteristics of the workover rig are:
Chassis type:
- TATRA 815-2PR3-28.210-6x6.2;
- motor - type T3A-929-34;
- power/rated speed: 210 kW (285.6 CP)/2,200 rot/min;
- torque: 1,030 Nm/1,400 rot/min;
- idle speed: 550-650 rot/min;
Accepted working load: 18,800 kg;
Net weight: 9,700 kg;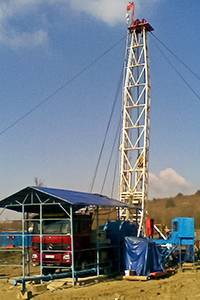 Total accepted weight: 28,500 kg;
Recommended working depth for 2 7/8 in tubing: 2,900 m;
Clear mast height: 16,493 m;
Ø 14 cable drum, cable length 2,250 m;
Alternate power: 151,6 CP/1086 rot/min;
Maximum lifting power during 3rd winding: 5,350 kgf;
Lifting speed of hoisting hook: 0.25-1.6 m/s;
Maximum load at hoisting hook: 28 tf;
Diameter of hoisting cable: Ø 22 mm;
Number of crane wire ropes: 6;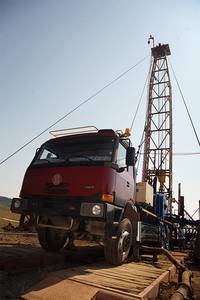 Speed gears at cable hoist: 2 + 2R.
Depending on the rig fit-out, it can perform the following operations:
- run in and pull out of hole tubing string;
- drilling of cement or sand plugs;
- works designed to start well production;
- bailing and swabbing operations;
- other well operations at depths specific to hook loads up to 28 tf.
Equipment available at SIRCOSS and its location according to areas of operation:
 

| Location SIRCOSS | Units |
| --- | --- |
| Medias Services Unit | 5 |
| Mures Services Unit | 6 |
| Ploiesti Services Unit | 3 |
 

| | | | | | | | |
| --- | --- | --- | --- | --- | --- | --- | --- |
| Year | 2009 | 2010 | 2011 | 2012 | 2013 | 2014 | 2015 |
| Number of Wells | 109 | 75 | 69 | 88 | 71 | 60 | 70 |