TW30 Workover Rig
Description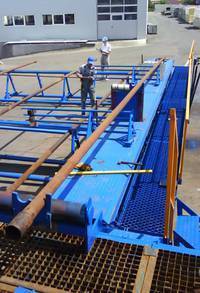 The TW30 TA-A3 workover rig is a self-propelled rig intended for oil or gas well workovers and recompletions.
Technical details:
Rig
Maximum load at hoisting hook 30 tf;
Length of operated pipes: 9 ÷ 11 m;
Clear mast height: 17.4m;
Diameter of hoisting cable: 22 mm;
Diameter of bailing cable: 14mm;
Number of crane ropes: 6;
Speed gears of the drawworks 4+1R;
Recommended working depths for:
Recompletions with3 ½" (q=23.06 kg/m) drilling pipes: 1,200m;
Recompletions with 2 7/8" (q=15.47 kg/m) drilling pipes: 1,800m;
Well workovers with:
·         3 ½" (q=13,8 kg/m) tubing: 2,000m;
·         2 7/8" (q=9,58 kg/m) tubing: 3,000m.
Maximum accepted wind speed:
·         with load on hook 70 km/h;
·         without load on hook 120 km/h.
Mast can be tilted by means of an hydraulic cylinder;
Anchorage: 2 resistence anchors connected to the chassis;
Overall dimensions during rig transportation:
- length 16,290 mm;
- width 2,500 mm;
- height 3,940 mm;
Working environmental temperature: -29˚C … +40˚C.
Chassis
1. Vehicle type: TATRA 815-280 R21-28 270-6x6.2/451;
2. Motor type: T3C-928-80 EURO III;
- power/turns 270 kW (367 CP)/1,800 rot/min;
3. Hydrodynamic transmission
- model: Allison CLT 754;
- hydrodynamic  transmission with TC 496 incorporated hydrodynamic torque converter;
-pneumatic gear switch;
-speed gears: 4 +1R;
Depending on the rig fit-out, it can perform the following operations:
- run in and pull out of hole tubing string
- drilling of cement or sand plugs;
- works designed to start well production;
- bailing and swabbing operations;
- other well operations at depths specific to hook loads up to 30 tf.
Equipment available at SIRCOSS and its location according to areas of operation​
 

| Location SIRCOSS | Units |
| --- | --- |
| Medias Services Unit | 7 |
| Mures Services Unit | 6 |
| Ploiesti Services Unit | 2 |
| Year | 2009 | 2010 | 2011 | 2012 | 2013 | 2014 | 2015 | 2016 |
| --- | --- | --- | --- | --- | --- | --- | --- | --- |
 

| Year | 2009 | 2010 | 2011 | 2012 | 2013 | 2014 | 2015 | 2016 |
| --- | --- | --- | --- | --- | --- | --- | --- | --- |
| Number of Wells | 68 | 90 | 95 | 106 | 104 | 97 | 84 | 84 |